Your area of expertise is the maintenance of machines, equipment and buildings. You have your hands full and time is money. If you have to do any paint, lubrication or repair work, you prefer to do so in the most efficient way possible.
Save Time & Money
Labour is the largest cost involved in carrying out paint maintenance work. This is why RUST-OLEUM has developed products that require as little processing time as possible. And thanks to the long-lasting nature of our products, you can extend your maintenance intervals. Save time and money with RUST-OLEUM.
'Personally, I use Rust-Oleum spray cans. It's unbelievably good stuff, petrol-resistant and we have them at work.'
Products for Maintenance Services
HARD HAT® Aerosol spray paints RAL
HARD HAT® Aerosol spray paints Metallic
HARD HAT® Aerosol spray paints Fluorescent
HARD HAT® Anti-rust Primers
HARD HAT® Zinc spray Galvanising Compound
HARD HAT® Zinc spray Aluminium
HARD HAT® Line marking Paint
CombiColor® Metal Paint
X1 Technical Sprays
LeakSeal® Flexible Rubber Spray
EpoxyShield® Floor coatings
---
Brochures and other information
X1 Technical Sprays brochure
A complete range of technical sprays, lubricants, corrosion inhibitors and cleaning products.
View the X1 brochure [PDF]
Leak Seal ® brochure
An innovative spray with a rubber base that seals cracks and leaks.
View the LeakSeal Brochure [PDF]
Overview of pipeline colours
Under current legislation, each kind of pipeline or conduit must have its own colour coding system. This allows emergency services to respond quickly in case of an emergency. Our HARD HAT® aerosol spray paints and CombiColor® metal paints are the ideal products for colour coding your pipes.
Take a look at the pipeline identification colours and part numbers [PDF]
---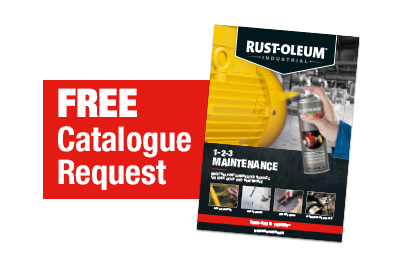 1-2-3 Maintenance, just for you!
The 1-2-3 maintenance range includes products that have been especially developed for fast and easy maintenance in construction and industry. The products solve problems, give instant results and last for longer.
---
Products for Maintenance services