Rust-Oleum® X1 eXcellent technical sprays - lubricants and cleaning products
The neXt generation technical sprays.
Rust-Oleum® X1 eXcellent is a comprehensive range of Technical Sprays for all your industrial lubrication and cleaning needs.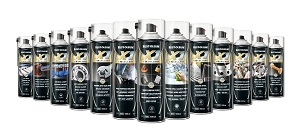 ONE-STOP-SHOP assortment
Complete range of sprays; lubricants, corrosion inhibitors, cleaners and penetrating sprays.
Highest quality
The X1 sprays contain the unique ceramic technology: BoroTecX™
3-way spraying under ANY angle
360 degrees spraying with the choice of 3 spray paterns.
Good adhesion
Resists detergent washing
Temperature range: - 35 °C to 180 °C

Advanced cleaning and degreasing power
Non corrosive and non-abrasive
Contains antistatic additives
Leaves a microscopic dry to touch protective film
Heavy duty cleaner
Can be rinsed off components with water
Removes grease, oil, tar etc.
Quickly penetrates grease and oil